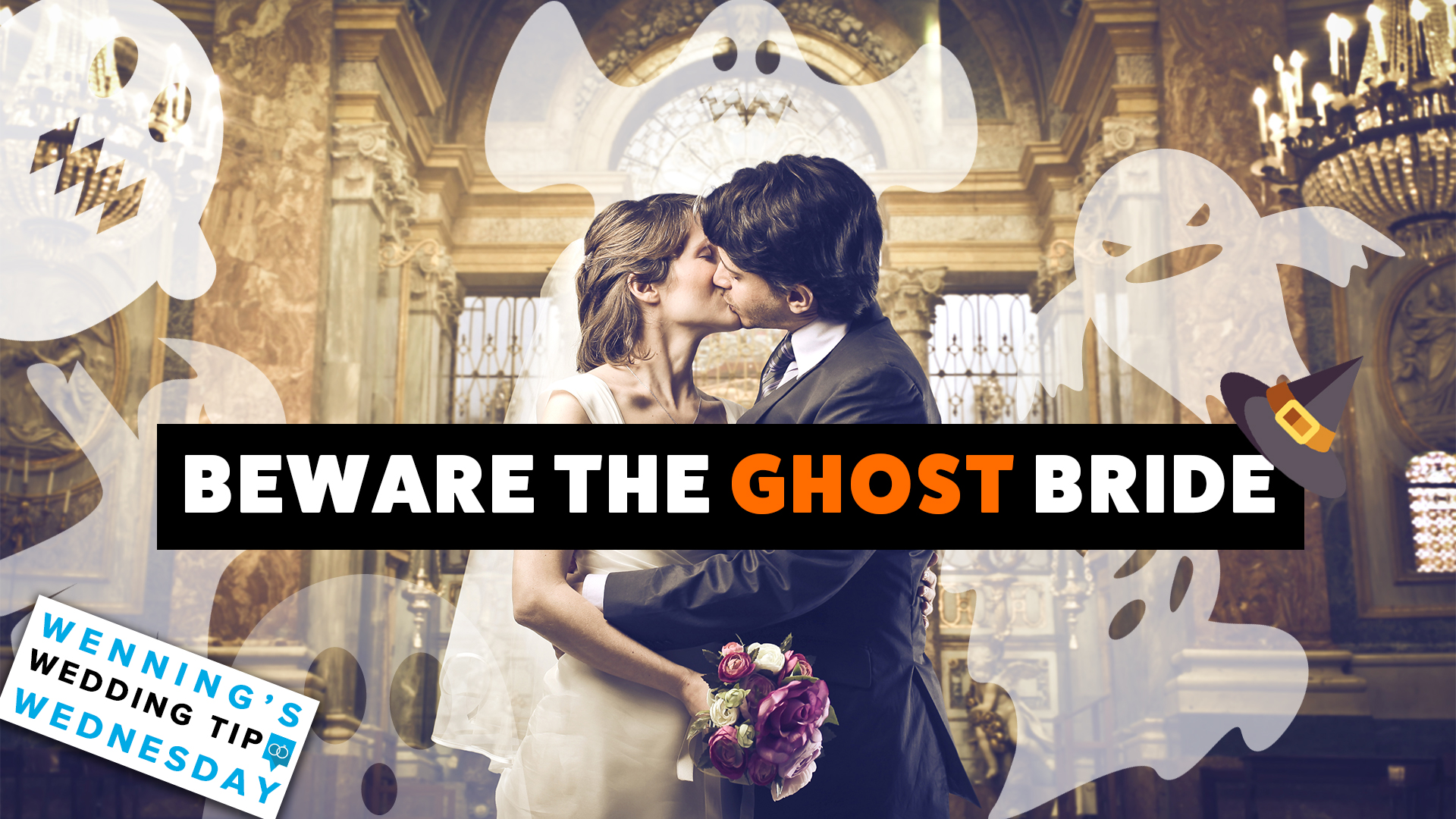 [us_separator]
Wenning's Wedding Tip Wednesday
[us_separator]
Since it is finally October and getting close to Halloween we will be having fun with everything that is spooky and scary.  Have you ever wondered where the main wedding traditions originated from?  This month we will be talking about several different traditions and how there was a sinister start to them.  But, for this week are switching it up and talking about ghost brides.
Beware the ghost bride! Today we will be sharing with you a spooky ghost story! So, picture it, a happy couple is planning their wedding.  They are in the midst of calling vendors to book services. The vendor and the happy couple end up having a great conversation and then, they ghost you! They stopped answering the phone! They stop emailing you back! DON'T be a ghost bride or a ghost groom!
If you are contacting a vendor, and you're talking pricing or setting up meetings.  Make sure to go through with to the end. It is okay if you have found someone else that you want for your wedding.  This happens a lot with vendors constantly popping up or if you received late advice about better options to choose from. Let all the vendors that you have spoken with that you will no longer need their services.
By letting the professional vendor know, it will let them move onto the next. They will no longer have to save the date for you and allow someone else to take your place. Sounds like a common courtesy but you would be surprised how many people just disappear.  The vendor won't be upset if you say you found someone else, that's just business. Everyone has been ghosted at least once in our lifetime, it's not the best feeling ever!
So, don't be a spooky ghost bride. Just let them know, via phone or email that their services are no longer needed. That is all you have to do! Sounds easy enough. Professional companies like us will continue to call and contact brides and grooms until we know the answer is "no."
Check us out on Facebook, to learn more: https://www.facebook.com/wenningent/
To see our most recent blog post, click here: https://www.wenningent.com/best-man-wedding-tradition/
Share this with others :




https://www.wenningent.com/wp-content/uploads/2019/10/WWTW_Oct19_Wk5_169.jpg
1080
1920
Wenning Entertainment
https://www.wenningent.com/wp-content/uploads/2022/08/Wenning_Header-Logo.png
Wenning Entertainment
2019-10-30 10:00:29
2020-03-28 15:17:38
BEWARE The Ghost Bride!!