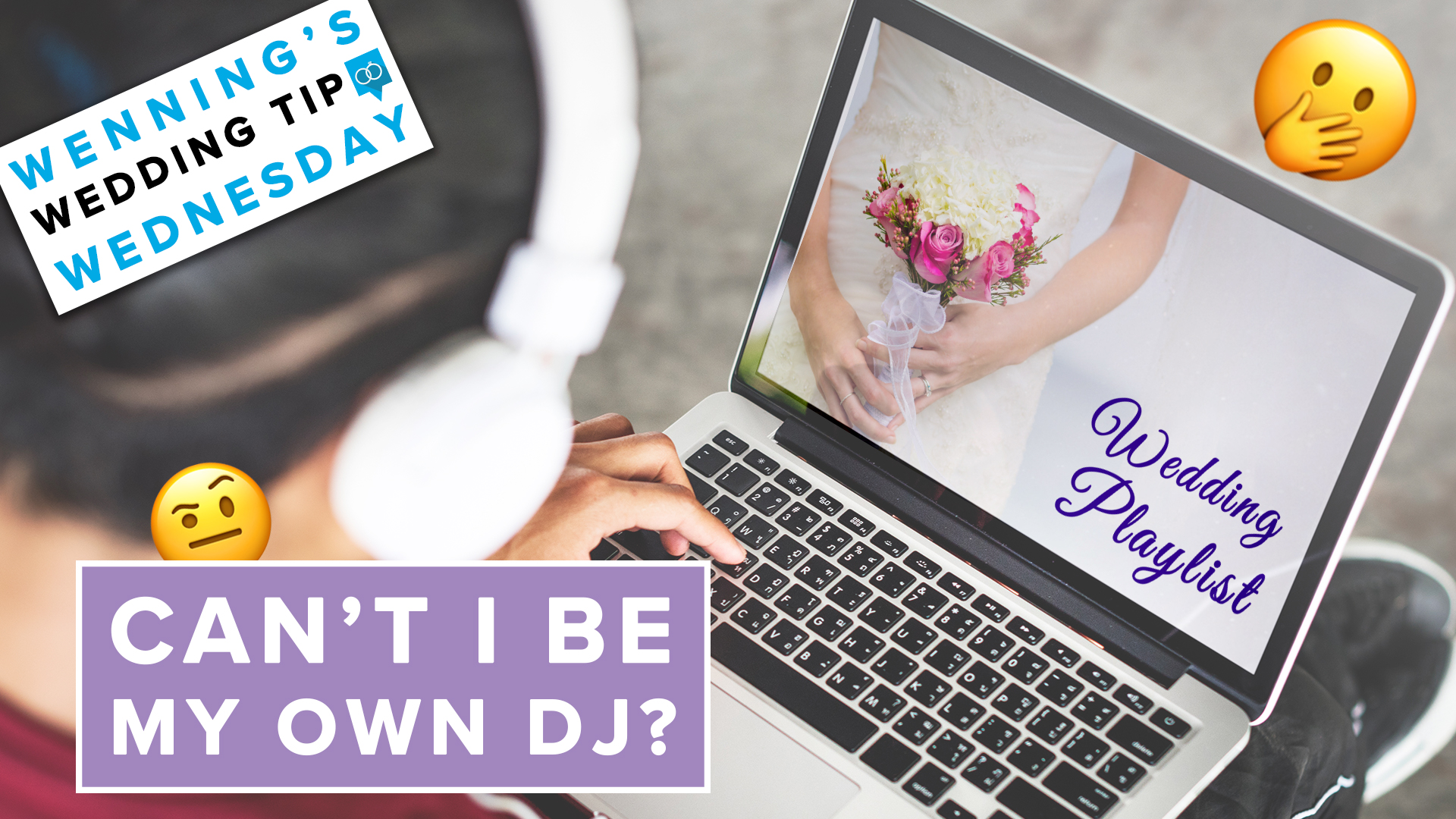 [us_separator]
Wenning's Wedding Tip Wednesday
[us_separator]
There are a lot of misconceptions about weddings and how they should be organized because you overheard someone talking about a cheaper alternative.  This month we will be debunking different myths about the planning process. Why can't I be my own DJ?
Is hiring a Professional Entertainer to perform at my wedding absolutely necessary? Why can't I be my own DJ?
Professional Entertainers are doing a lot more than clicking buttons for a couple of hours.  They are providing a whole soundtrack for your big day. Plus they are playing the role of emcee to ensure the event goes off without a hitch.
If the guests are not reacting to the music, the DJs have the skills to read the crowd and make adjustments.  Their job is to make sure everyone there active and engaged. Keeping guests on the dancefloor as long as possible is critical.
You don't need a "DIY DJ" running the show.  Asking a family member to play music all night will end in disaster.  What if they play music that isn't appropriate or an issue arises? They have not been trained to handle to stress professionally.
Since 85% of a Wedding Reception's success is dependent on the entertainment, spend your money wisely.  Make sure you do plenty of research before booking such an important vendor for your Wedding. Professional entertainers are always the safe bet when it comes to booking a vendor.
There are plenty of DJs available that specialize in Weddings and know exactly what kind of music to play and how to read the crowd accordingly. This is not an area you want to cut costs. Consider scaling back on the floral arrangements or the decor before hiring an amateur DJ.
Check us out on Facebook, to learn more: https://www.facebook.com/wenningent/
To see our most recent blog post, click here: https://www.wenningent.com/will-a-wedding-planner-break-my-budget/
Share this with others :




https://www.wenningent.com/wp-content/uploads/2019/09/WWTW_Sept19_Wk3_169.jpg
1080
1920
Wenning Entertainment
https://www.wenningent.com/wp-content/uploads/2022/08/Wenning_Header-Logo.png
Wenning Entertainment
2019-09-18 10:05:52
2020-03-28 15:18:04
Can't I Be My Own DJ?