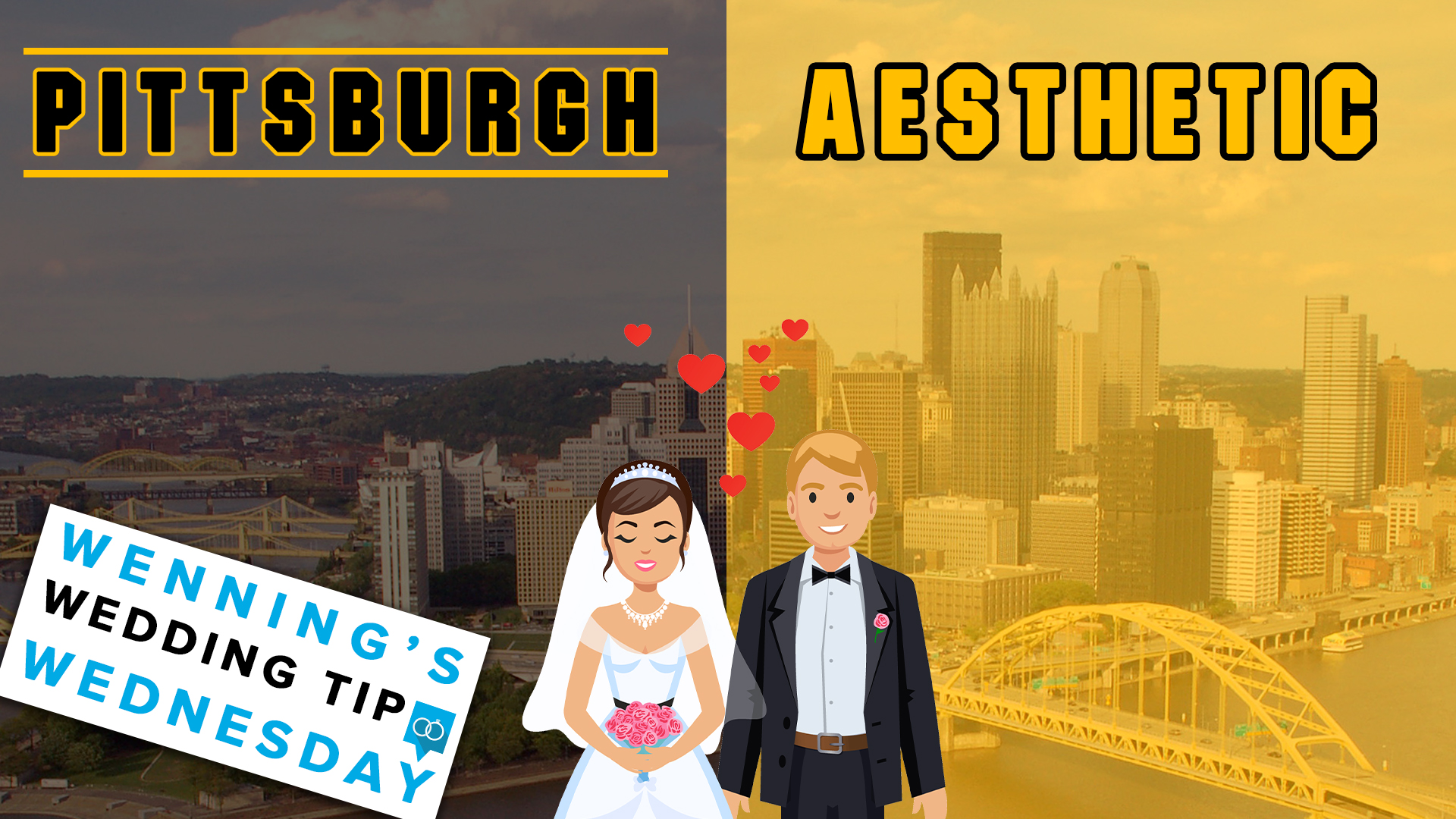 Yinz Gettin' Married?: The Pittsburgh Aesthetic
[vc_row][vc_column][vc_custom_heading text="Wenning's Wedding Tip Wednesday" font_container="tag:h2|font_size:45|text_align:center" google_fonts="font_family:Satisfy%3Aregular|font_style:400%20regular%3A400%3Anormal"][vc_column_text]
The Pittsburgh Aesthetic
[/vc_column_text][vc_column_text][vc_video ratio="16-9″ link="https://vimeo.com/349685396″][/vc_column_text][vc_column_text]
Pittsburgh is known for having some of the best views out of any city in the country. Use the beautiful Pittsburgh Aesthetic to your advantage on your big day!
[/vc_column_text][vc_column_text]Of all the unique qualities of Pittsburgh weddings, the Pittsburgh views and skyline are certainly the most stunning!
The views in Pittsburgh are second-to-none in terms of wedding photo locations. From the lookouts on Mt. Washington to the deck of the Gateway Clipper, Pittsburgh is full of perfect photo spots. Many couples will take time to make the trip up Mt. Washington (preferably via one of the Inclines) to take in the wonderful skyline and to snap some photos. Point State Park is also another location in which you can truly capture the essence of the Pittsburgh aesthetic.
Venues with amazing views are also plentiful in Pittsburgh. Rooftop and skyline views are abundant when it comes to Pittsburgh wedding venues. There are also a number of very unique locations throughout the city that offer a genuine Pittsburgh feel to your wedding. Numerous art museums, the Phipps Conservatory, the Aviary, and sports venues like PNC Park all offer unique views and a great atmosphere. No matter where you decide to have your wedding in the Steel City, be sure to take advantage of that genuine Pittsburgh aesthetic! Take a look at these must-see Pittsburgh views for some further photo-op inspiration![/vc_column_text][/vc_column][/vc_row]
Share this with others :




https://www.wenningent.com/wp-content/uploads/2019/07/WWTW_July19_Wk4_Thumbnail_169.prproj.jpg
1080
1920
Wenning Entertainment
https://www.wenningent.com/wp-content/uploads/2022/08/Wenning_Header-Logo.png
Wenning Entertainment
2019-07-24 09:45:09
2020-03-28 15:18:39
Yinz Gettin' Married?: The Pittsburgh Aesthetic