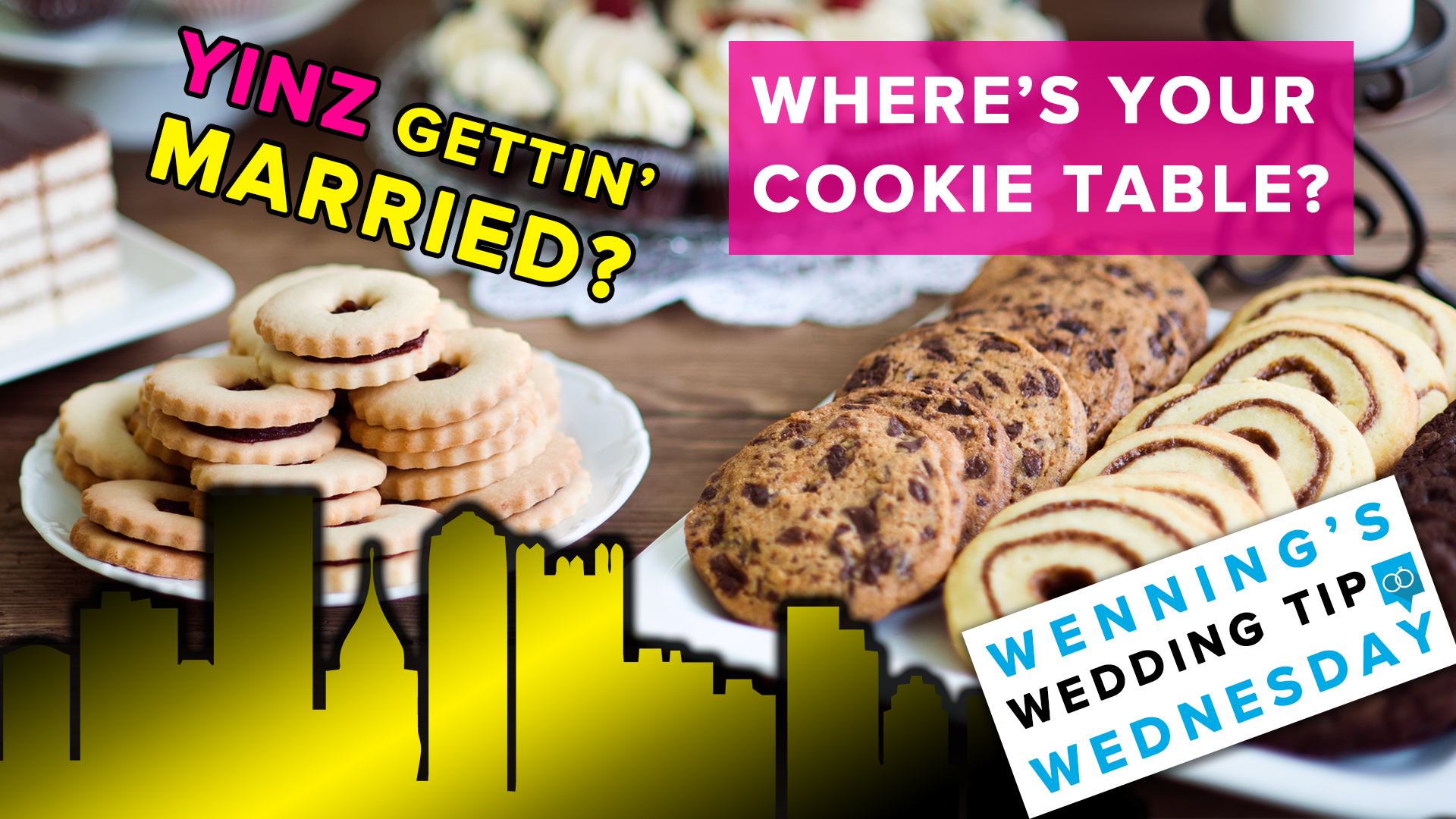 Yinz Gettin' Married?: Where's Your Cookie Table?
[vc_row][vc_column][vc_custom_heading text="Wenning's Wedding Tip Wednesday!" font_container="tag:h1|font_size:40|text_align:center" google_fonts="font_family:Satisfy%3Aregular|font_style:400%20regular%3A400%3Anormal"][vc_column_text]
Wheres Your Cookie Table?
[/vc_column_text][vc_column_text][vc_video ratio="16-9″ link="https://vimeo.com/345731771″][/vc_column_text][vc_column_text]
The Cookie Table is a staple of Pittsburgh weddings! Don't miss out on having this at your wedding!
[/vc_column_text][vc_column_text]Pittsburgh has many traditions that stem from the numerous regional backgrounds and heritages found in this city. Pittsburgh is considered a melting pot of cultures and tradition unlike many other major cities around the world. Italian, Polish, German, and many, many more are what create our wide ranges of diversity. But, when defining our most traditional aspect of our weddings, being the Cookie Table, we created a nationwide trend.
The cookie table is unlike others, where you have the freedom to include any type of desert that you desire. Likewise, it will be a good way to get your family and friends together before hand to bake the cookies! Traditionally, it is the mothers, grandmothers, and other women of the family who will put their baking efforts to the test for your big day. However, anyone is welcome to pitch in! Whether it's one table or an entire room, the designated cookie table area is always a highlight for Pittsburgh weddings.
From lady locks, to brownies, there is no limit on what you bring. Remember, be sure that you have enough cookie to feed your guests! Smaller venues may call for a more simple and elegant cookie display. However, large, extravagant wedding receptions can handle a huge assortment! Dozens of assorted cookies will fill the tables to overwhelm people with options; in a good way of course. Then, when the party is all said and done, provide bags for whomever to bring home some treats for later!
No matter if you are from Pittsburgh or not, a table full of cookies is an aspect to any wedding that will truly stand out. From your youngest cousin, to your great grandmother, every one of all ages will absolutely love the cookie table. Consider this for your upcoming big day![/vc_column_text][/vc_column][/vc_row]
Share this with others :




https://www.wenningent.com/wp-content/uploads/2019/07/WWTW_July19_Wk1_169.jpg
1080
1920
Wenning Entertainment
https://www.wenningent.com/wp-content/uploads/2022/08/Wenning_Header-Logo.png
Wenning Entertainment
2019-07-03 09:45:24
2020-03-28 15:18:55
Yinz Gettin' Married?: Where's Your Cookie Table?