Wedding Expos: Which Booths Are Worth Your Time
Wedding expos are huge conventions centered around one of the most fun (and stressful) events you'll ever plan. The great part of these shows is that there are more vendors than anywhere else, so it could be your one-stop shop for all things wedding related. But, not everyone has a full day available to casually stroll through the rows and rows of booths. If you don't have a lot of time to walk all over the exhibition hall, here are some tips on deciding which booths are worth your time visiting.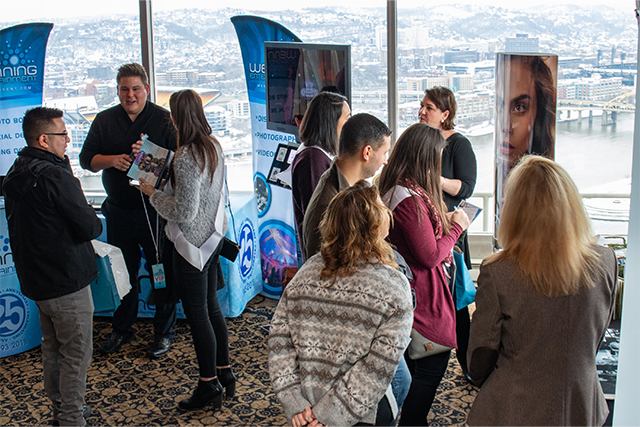 Refer to Your Budget at Wedding Expos
In last week's blog, we told you about the importance of finalizing your budget before you get to wedding expos. This is where establishing that framework will be the most helpful. You should know by now which vendors are on your must-have list. At Wenning Entertainment, we recommend your entertainment, food, and drinks as some of the most important elements of your wedding you don't want to cheap out on.
Prioritize those booths if you don't have a lot of time to make sure you get the information you need. Make sure you keep the information from the booths that stuck out to you in a separate pocket or folder than the others.
Don't Box Yourself In Too Much
Even though you should always keep your budget in mind, if you do have the time, widen your search. Yes, wedding expos are about planning, but you should have fun too. Look at those booths you might not be planning to buy from for inspiration!
Check back here next week for our top tips for attending wedding expo shows and learn how to make the most of your trip!
Follow us on social media for more helpful wedding tips every week!
Facebook: https://www.facebook.com/wenningent/
Instagram: https://www.instagram.com/wenningent/
Read more of our weekly blog articles: https://www.wenningent.com/blog/
Share this with others :




https://www.wenningent.com/wp-content/uploads/2022/09/WW_8_31_BLOG_Thumbnail.png
675
1200
wepub
https://www.wenningent.com/wp-content/uploads/2022/08/Wenning_Header-Logo.png
wepub
2022-09-01 06:44:15
2022-09-01 06:44:18
Wedding Expos: Which Booths Are Worth Your Time