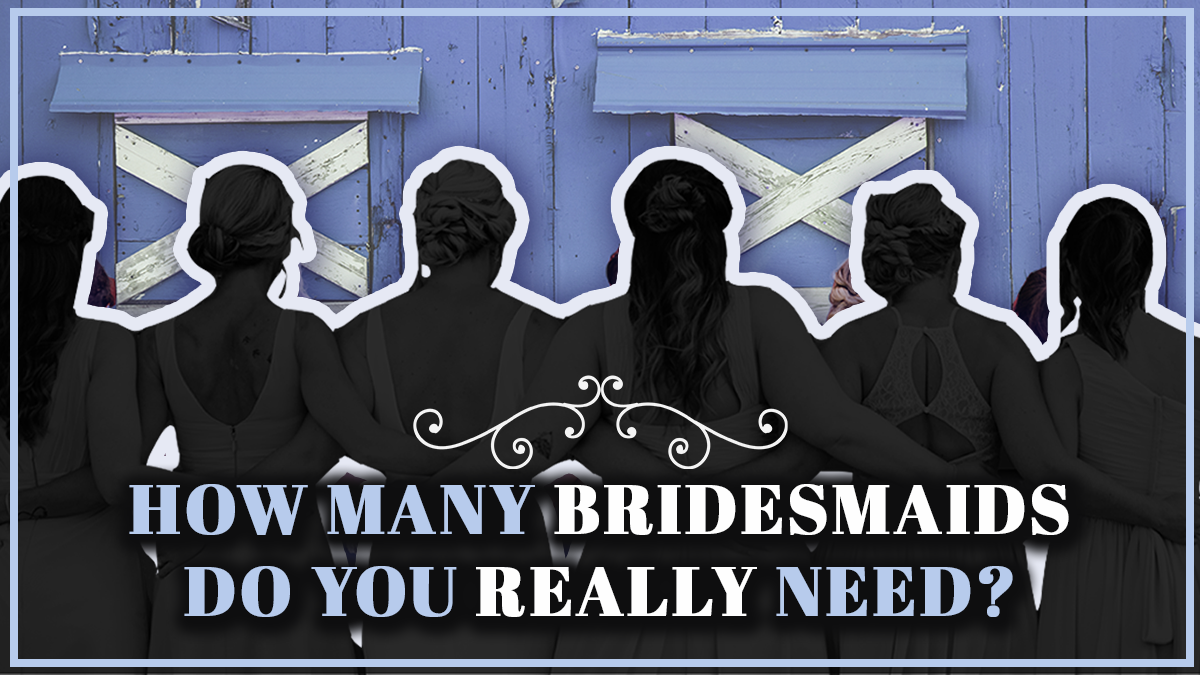 How Many Bridesmaids Do You Really Need?
[embedyt] https://www.youtube.com/watch?v=sLG9fF043xw[/embedyt]
Getting engaged is so exciting! That excitement can lead to making snap decisions about important points of your wedding early on. Take for example: picking your bridal party. It's easy to fall into the trap of wanting as many bridesmaids or groomsmen as you can fit because you want everyone to be included, but that's not always the best idea.

Be Selective When Choosing Your Bridesmaids and Groomsmen
When talking about wedding party etiquette you need to keep in mind the good old fashioned K.I.S.S. rule. Keep It Simple Stupid! You want to keep the people that are closest to you part of your big day. Not everybody you consider a friend needs to make the cut. Sure you were really close with your college roommate four years ago but have you talked since?
Theres a reason why the people who are currently the closest to you are the best ones to add to a bridal party. They know who you are now. They know your likes and you dislikes best. These are the people that you want to give the responsibility of being in the bridal party.

What Is Normal?
You don't need two dozen people at your bridal party. When it comes down to it, thats just more people to corral on the day of your wedding. The average bridal party these days is between four and six people for the bride and the groom. So keep it simple! You do not want to be stressed on your wedding day by Joe-haven't-seen-him-in-years because he's by the bar instead of taking pictures with the rest of the bridal party.
You have so many things to stress over on your wedding day as it is. Don't let your bridal party become one of them!
Visit our Social Media to stay up to date!
Facebook: https://www.facebook.com/wenningent/
Instagram: https://www.instagram.com/wenningent/
Read more of our weekly blog articles: https://www.wenningent.com/blog/
Share this with others :




https://www.wenningent.com/wp-content/uploads/2021/07/Wk2-thumbnail-WEBSITE.png
675
1200
wepub
https://www.wenningent.com/wp-content/uploads/2022/08/Wenning_Header-Logo.png
wepub
2021-07-14 08:50:25
2021-07-14 08:50:26
How Many Bridesmaids Do You Really Need?