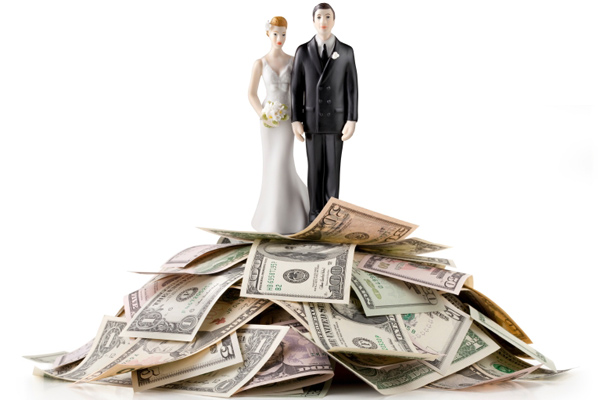 Be Flexible in your Budget for the Important Parts of your Wedding!
Have you ever heard someone say they don't see the need in hiring professional wedding entertainment because they think it's a waste of money? We don't think this is an area you should cut costs in. It may not seem important prior to the reception, but we believe entertainment can make or break your special day.
A guest's top memory about a wedding is the entertainment. While planning a wedding there are many important details to handle, but keep in mind there are also many details that could be a waste of time. Don't sweat the small stuff! Be sure that you have budgeted 10-15% of the total wedding budget towards your DJ or choice entertainment.  Although it may seem that bridal magazines and websites are your guiding light, remember that the price of your DJ will vary depending on your location. Most couples only budget $500-$1000 for a DJ, this is NOT enough! Do your research; find out how much the professionals start at in your area. Most Full-Time Professionals in the Pittsburgh, PA area will start around $1500 and go up from there.
In addition to playing music, make sure your DJ will help keep your reception on schedule with signatures events like the bouquet toss, father/daughter dance, cake cutting, even an anniversary dance. They should also have backups of everything from equipment to personnel and proper insurance! Don't let a bad DJ ruin your wedding! Try putting yourself in your guests' seats as you think about how you want your big day to be remembered. Do you think your guests will remember the one of-a-kind hand made centerpieces, or your favorite Uncle following small interactive dances that can be easily taught by our DJs? Your entertainment will play a huge part in that so choose wisely!
Think about that house party or wedding you went to with no music and poor atmosphere. We can only imagine how boring that was; so take our word when we say a party with Wenning Entertainment is like a great house party times 20!
Share this with others :




https://www.wenningent.com/wp-content/uploads/2013/05/budget-guru.jpg
400
600
Wenning Entertainment
https://www.wenningent.com/wp-content/uploads/2022/08/Wenning_Header-Logo.png
Wenning Entertainment
2013-05-24 15:38:08
2020-03-28 15:36:03
Be Flexible in your Budget for the Important Parts of your Wedding!