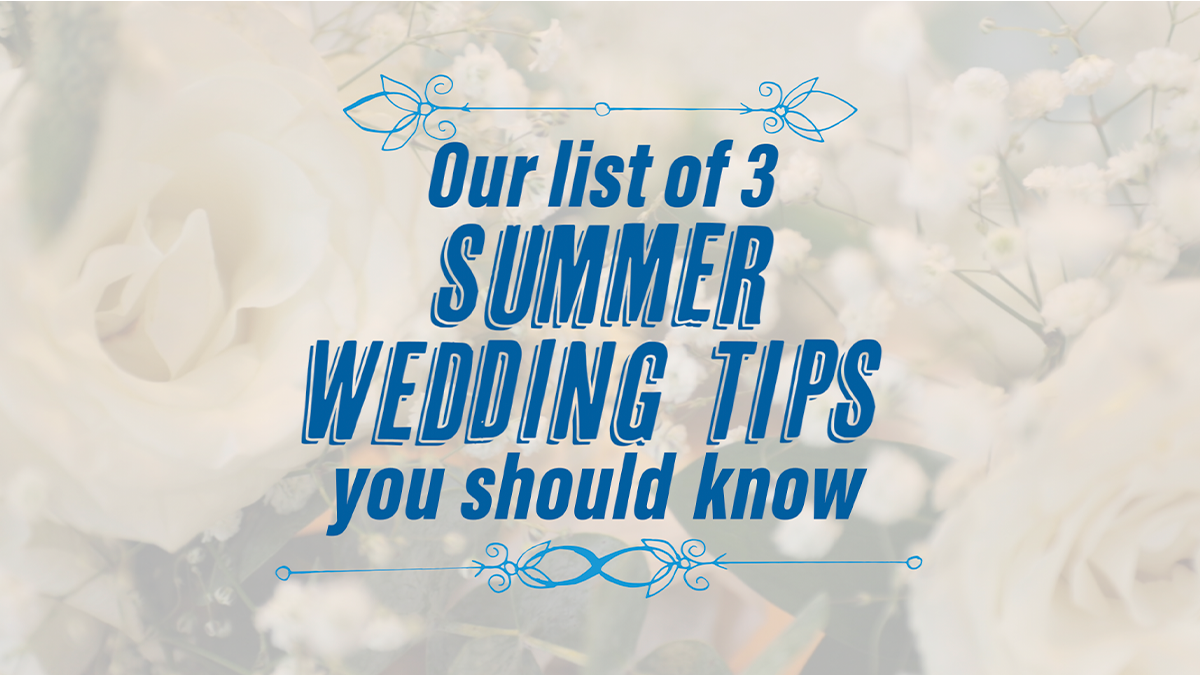 Summertime is fast approaching, and with it comes new seasonal wedding trends. Summertime weddings can be so much fun but they can also turn into a drag if you and your guests are slaves to the environment. That's why this week, we are giving you some of the best summer wedding trends to help you beat the heat and have a great time at your wedding. 

Beat the Heat
With summer weddings, the weather is always a factor. Even f you're inside, the heat will still find its way in. The easiest way to do this is to place hand fans at every seat for the ceremony. If you're feeling really generous, spring for customized battery-operated fans to fit the aesthetic of the decore.

Outdoor Weddings
If you have an outdoor ceremony, think about what kind of surface you're going to be on. If you and your guests will spend all of your time on a patio, no worries! But, if you have any kind of grassy area, consider your guests. You don't want to have anyone sinking into the mud on your wedding day. Have mercy on your guests in high heels and offer flip flops for them to borrow during the ceremony and reception!

Incorporate Cool Treats
One of the easiest ways to keep cool this summer wedding season is by offering refreshing treats during cocktail hour. If you're considering having a signature drink, make it something light and refreshing like a mojito or sangria. And for dessert, keep it light with ice cream, Italian ice, or sherbert.
Be sure to check back every week to keep up-to-date on the latest wedding trends with Wenning Entertainment. And for more wedding inspiration and tips, follow us on social media!
Facebook: https://www.facebook.com/wenningent/
Instagram: https://www.instagram.com/wenningent/
Read more of our weekly blog articles: https://www.wenningent.com/blog/
Share this with others :




https://www.wenningent.com/wp-content/uploads/2022/06/WW_6_8_Blog_Thumbnail.png
675
1200
wepub
https://www.wenningent.com/wp-content/uploads/2022/08/Wenning_Header-Logo.png
wepub
2022-06-09 08:53:12
2022-06-09 08:53:12
Summer Wedding Tips