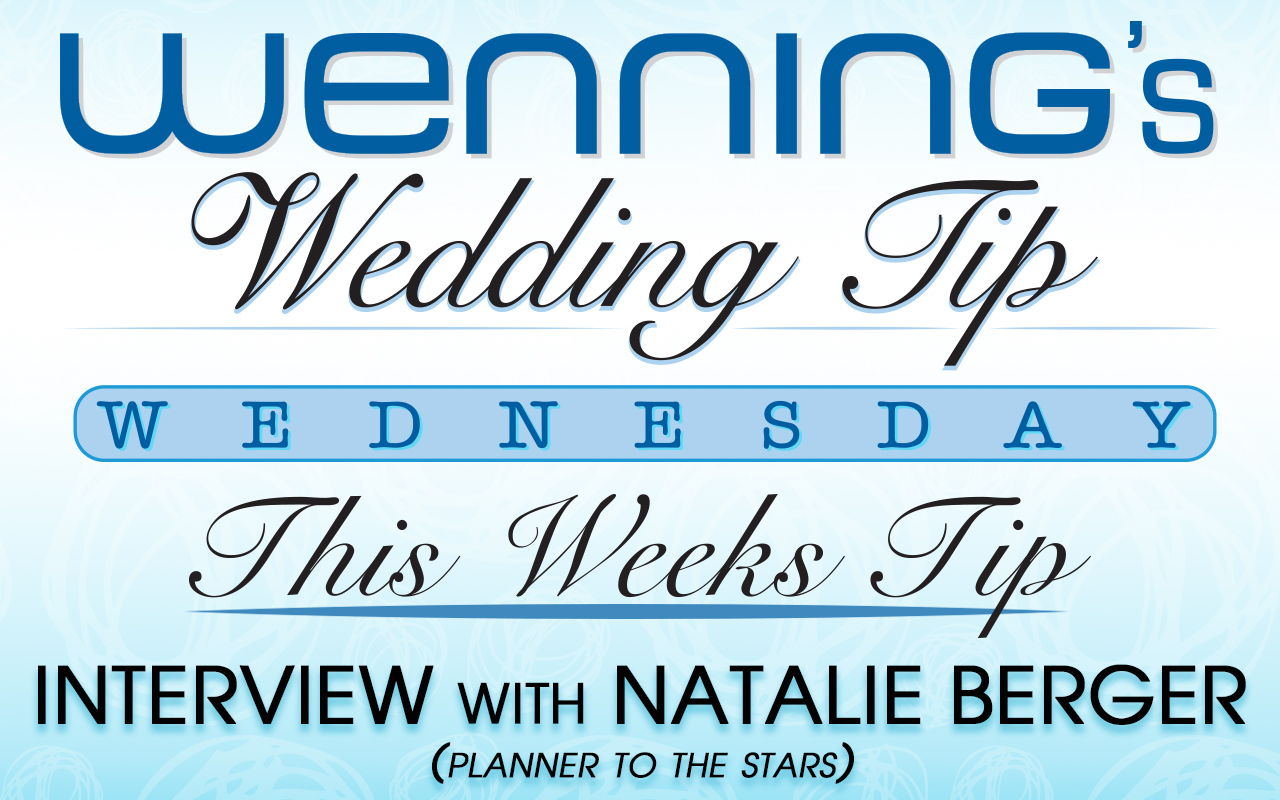 Interview with Natalie Berger
Wenning's Wedding Tip Wednesday
Hiring a Professional Event Planner can prove to be far more valuable than you may have thought. Imagine, you are planning one of the most important days of your life and you do not want anything to mess that up. You want your venue to be beautiful; your vendors to be on the same page as well as ensuring your guests have a wonderful time! Have you ever taken a moment to think about what goes on behind the scenes and what could possible go wrong on such a busy day? Hiring a family friend to get you through this day may not be the best idea because although they "know how you think" they probably have not done as many events as a professional planner has and they do not know how to handle certain situations that could go wrong! We got the chance to catch up with Professional Event Planner Natalie Berger in the midst of her busy schedule to pick her brain a bit and have her shed some light on some planning do's and don'ts to help guide you to a very special Wedding Day!
What separates your services from other Planners?
"I am an event planner that takes care of each client…you meet me, you hire me, you GET ME!!! No associates will run your event that day, I am there for you!!"
What advice can you give to New Brides and Grooms about planning their wedding?
"Make a budget…..stick with it!!! More does not mean BETTER!!!!"
What would you say to Brides and Grooms in having their "Friends or Aunt's" be their Planner?
"Having a relative or friend help plan and run your special day is not fair to them or you…they will not be able to enjoy your day with you and things may come up, that they do not know how to handle. It is much easier to delegate things to do or correct to a paid professional…"
What's one of the Biggest Mistakes you see that Brides and Grooms make in planning their wedding?
"The #1 thing to hire when planning your event is great entertainment!!!  Having fun at a wedding is what you remember, not the color scheme or food choices, music selections, dancing and having a fabulous time with family and friends is the key to a great event!!!!"
Anything else you want to add?
"When hiring vendors, get references, make sure they have worked the venue, and they should make you feel like you are their only client!!!"
If you are planning a grand event and want to contact Natalie for her professional assistance you can do so via email at [email protected] or by phone at (412) 298-4638. Check back next week for more Wedding Planning Tips!
Share this with others :




https://www.wenningent.com/wp-content/uploads/2016/06/Header_Nat_Berger.jpg
800
1280
Wenning Entertainment
https://www.wenningent.com/wp-content/uploads/2022/08/Wenning_Header-Logo.png
Wenning Entertainment
2016-06-08 12:54:43
2022-12-06 09:21:28
Interview with Natalie Berger