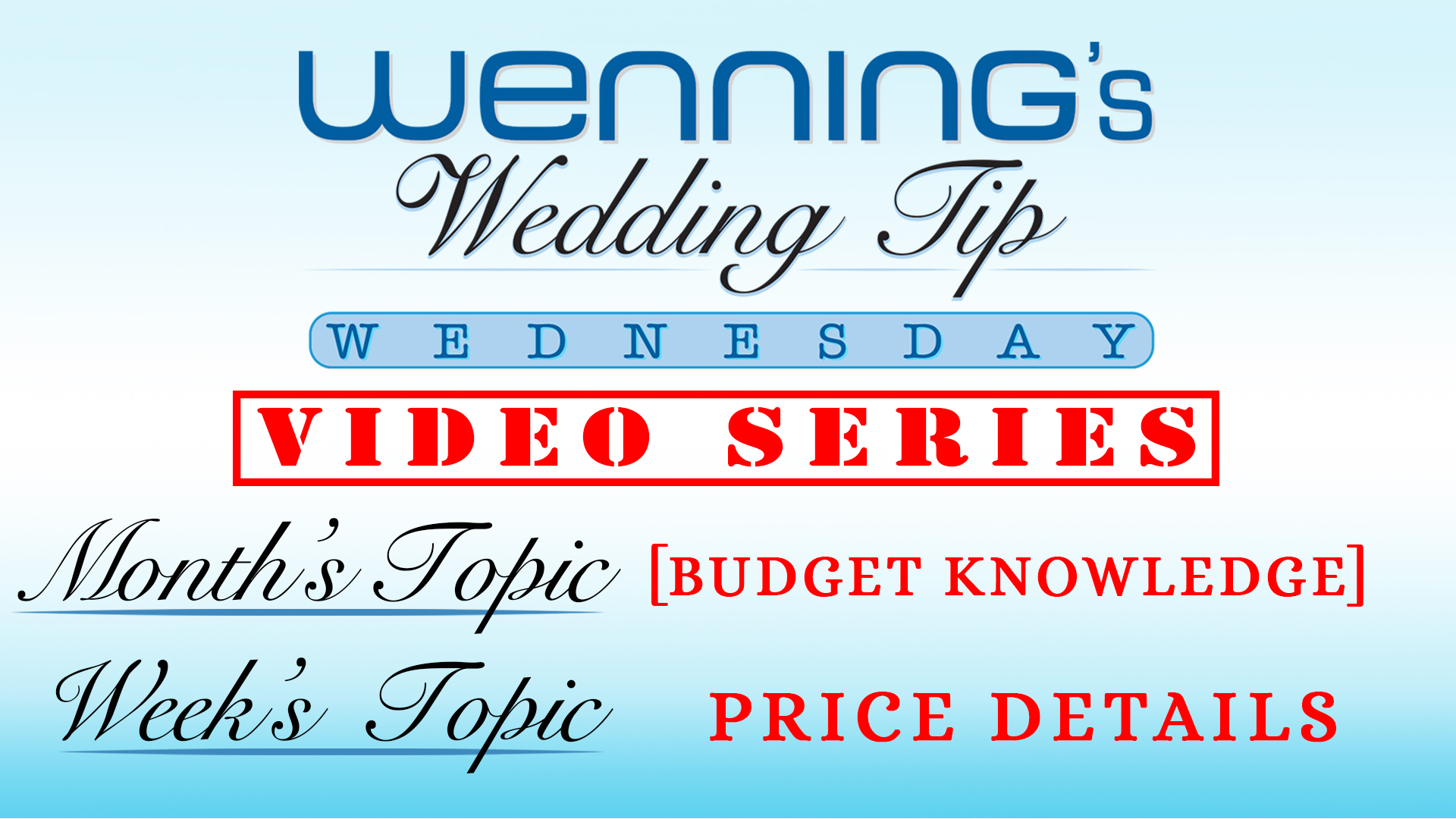 Budget Knowledge | Price Details
Wenning's Wedding Tip Wednesday
Several factors need to be considered when creating your wedding budget and deciding how much to put towards entertainment. Understand what you need and what you want; this will help you create (and stick to) your budget.
Creating a budget entails knowing what wedding services cost. A good rule of thumb is to budget 10-15% of your total budget towards your wedding entertainment. Research shows 80% of people say entertainment is what they remember most from a wedding. Food and alcohol are a close second.
Remember, a professional wedding DJ does more than just stand behind a table and play music. There are elements such as planning, crowd management and timeline flow that go into a successful wedding day. These elements also go into the final pricing of your professional wedding entertainer.
Length of Event
How long of a day your DJ will have plays into the final cost of your wedding entertainment. If you are having your ceremony, cocktail hour and reception all at the same venue you will be saving money in the venue category. However, if you will be having a cocktail, ceremony, or reception at that one venue in various rooms of the venue then you need to have multiple sound systems set up.
Pre-Planning
DJs are accountable for the timeline of your event. They are also responsible for coordinating with the various vendors that you will be using throughout your Big Day and keeping everyone on the same page.
Most professional DJs will also include a 2-hour set up and 1-hour teardown free of charge. The client is only charged from the time that the first guest arrives until you say the night is over. Your DJ will also invest unpaid time into your event via 20 or more hours of playlist preparation, timeline organization and going over bridal party names.
Number of Systems
You may be saving money having your event in one venue, which you are on your venue costs but because your professional DJ will not move systems you might have to pay for additional system set ups. Not only is it unprofessional but it is also time consuming and goes against insurance obligations. Having a system setup in each room of your venue that will be used helps with the flow of the evening and keeps from disrupting you guests as they enjoy the atmosphere of your special day.
Venue
Each venue has a different layout that may affect the sound. Some venues may be less accessible for the DJ and his equipment, so the needs of the equipment may need adjusting which can affect the price.
Keep in mind that with the final price you are paying for experience, accountability, peace of mind, back-up equipment and personnel as well as professionalism, contractual obligations and insurance. Most venues will not let an entertainer perform if there is no liability or workers compensation insurance. So if you decide on a hobbyist be sure that they have all of their I's dotted and T's crossed!
Share this with others :




https://www.wenningent.com/wp-content/uploads/2018/05/NEW_Header_Price_Details.jpg
1080
1920
Wenning Entertainment
https://www.wenningent.com/wp-content/uploads/2022/08/Wenning_Header-Logo.png
Wenning Entertainment
2018-05-16 14:12:16
2022-12-06 09:23:50
Budget Knowledge | Price Details