[embedyt] https://www.youtube.com/watch?v=bDcg5bYrdBQ[/embedyt]Your wedding day is packed full of things for you to worry about. From ensuring that you greet all of your guests to making time to eat, you'll have a lot on your plate! The last thing you want is to add worrying about the reliability of your entertainment. That's why Wenning Entertainment's professionally trained DJs always come with a backup plan. 

Prepare Your Backup Plan
 What if something goes wrong with the speakers? What if the DJ has car trouble on the way to the venue? Everything should have a backup plan. If you have an outdoor wedding, you should have a rainy day location to switch to. The same is true for your entertainment. It's life, things will happen. Whether your first DJ gets sick or a piece of equipment breaks, we have backups.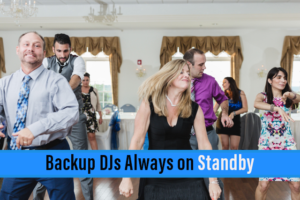 Cheaper Isn't Always Better
We don't leave anything to chance. Rest assured that if one DJ can't make it, we have another professionally trained DJ ready to go whenever you need them. If you book your entertainment with a cheaper, smaller-time DJ service, they won't have the backup plan guarantees that Wenning offers.
So, don't rely on just one person for all of your entertainment needs on your wedding day. Book your entertainment with Wenning Entertainment and get not only a great DJ but an equally experienced and trained replacement as well as state-of-the-art equipment and equipment backups. Don't get caught with a room full of people and no way to entertain. Get the peace of mind you need on your big day when you book your DJ with Wenning Entertainment.
To find out more on how Wenning Entertainment's professionally trained DJs can make your wedding extraordinary, click here!
Facebook: https://www.facebook.com/wenningent/
Instagram: https://www.instagram.com/wenningent/
Read more of our weekly blog articles: https://www.wenningent.com/blog
https://www.wenningent.com/wp-content/uploads/2022/06/WW_6_29_Blog_Thumbnail.png
675
1200
wepub
https://www.wenningent.com/wp-content/uploads/2022/08/Wenning_Header-Logo.png
wepub
2022-06-30 08:41:56
2022-06-30 08:41:56
Always Have a Backup Plan